By Kat Austin | Lifestyle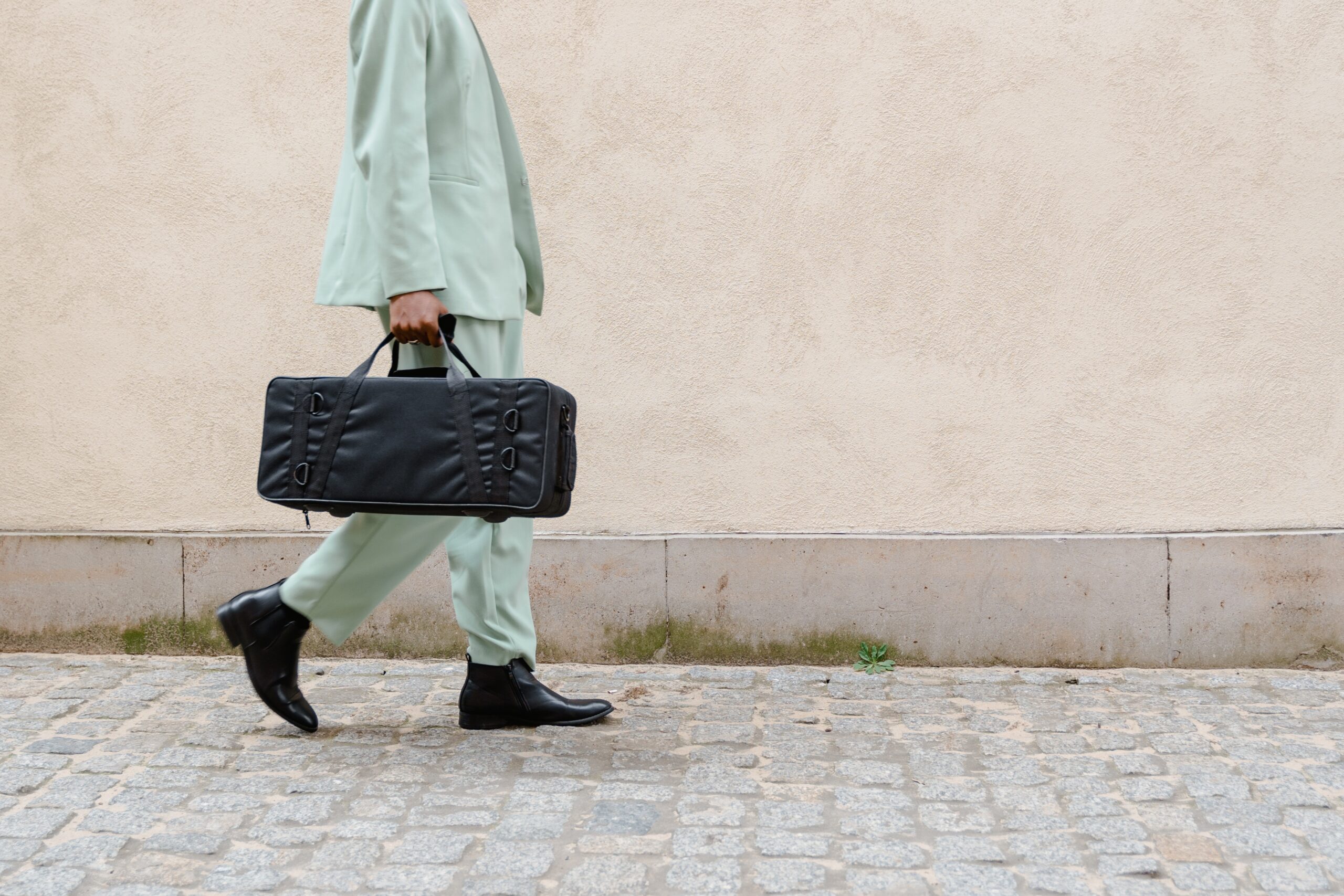 You've upgraded your smoking collection and experimented with all the best strains–you can't keep tossing your stash in a plastic bag and calling it a day. Having a high-quality, smell-proof stash case is essential to keeping your stash tidy and secure and keeping a low profile when you stow your weed on the go.
Whether you're looking for an all-in-one stash kit or a simple smell-proof joint case, you can find something that meets your needs and your budget. To help you make a decision, we've reviewed all the best smell-proof bags and on-the-go smoking kits out there. Here are the best smell proof bags available this year:
Key Takeaways
A smell-proof bag is essential for making your weed mobile while maintaining discretion.
It's important to know local regulations before going because every state's laws on marijuana and consumption paraphernalia are different.

Avoid breaking or losing any of your stash or equipment by storing it in a proper stash case. 

Look at a stash box as an investment into a premium, mobile smoking experience.
Why You Need a Smell Proof Bag
Aside from the fact that you are an adult and a plastic bag is no longer a suitable option, there are also social and legal implications surrounding your stash. This may come as no surprise to you, but there are some states where the laws are conflicting.
Legality
While legalization and decriminalization continue in some states, other states maintain outdated and unreasonable cannabis laws – especially those related to paraphernalia. In essence, there are still legal loopholes that allow law enforcement to continue incarcerating people for cannabis' crimes' (what an unwarranted word)–even in states that have decriminalized. For example, in Nevada and Mississippi, you can carry nearly an ounce of cannabis with nothing more than a fine in penalties; but if the police find a grinder, bong, or a pipe during their search, you could be facing jail time.
We're not joking–there are still states where cannabis itself is decriminalized, but the items used to consume it are not. The following states have decriminalized amounts of cannabis for personal use (or have medical programs in place) but still have unjust paraphernalia laws that can send you to jail:
Arizona (medical program): Possession of paraphernalia is a felony that carries up to two years in jail time and a maximum fine of $150,000
Connecticut: Possession of paraphernalia used to inhale or ingest more than a half-ounce of cannabis can send you to jail for three months.
Delaware: Possession of paraphernalia in conjunction with one ounce or more of cannabis carries jail time of up to six months.
Massachusetts: Possession of paraphernalia carries jail time of one to two years and a maximum fine of $5,000.
Mississippi: Possession of paraphernalia carries a maximum jail time of six months.
Missouri (2017 decriminalization): Possession of paraphernalia carries a maximum jail time of one year.
Nevada: Possession of paraphernalia can send you to jail for six months.
New York: Possession of a scale to weigh out your daily dose can send you to jail for one year.
North Carolina: Use or possession of paraphernalia is grounds for imprisonment for up to 45 days.
Social
You only have one opportunity to make a first impression–ensure it's the right one. You wouldn't serve steaks on a paper plate or offer someone a stale, smoked roach; why store your smoking stash in a sandwich bag? Don't. Instead, use a Safety Case, and you'll have everything you need to smoke or vaporize in one discreet, smell-proof stash box. Plus, it guarantees all your smoking supplies are organized and in one place.
You probably love the pungent aroma of cannabis, but those around you may not have that same level of appreciation. It all comes down to respect. Nobody cares that you have your stash on you so long as they can't sniff it out. By using a smell-proof storage container like the Pebble, you can transport your stash around town without worrying if your neighbor on the train can smell it. We suggest keeping your Pebble's inside the Safety Case, which can hold up to eight containers.
Tips For Storing Your Stash
Whether you're headed across town or the country, you've probably encountered the problem of how to carry your smoking supplies after you take them out of the marijuana packaging. Ultimately, the answer to this question will depend on the contents of your stash and where you're going. Like many cannabis consumers, we would venture to guess that your stash is constantly changing. The most versatile options are usually the most helpful, and most importantly: scent proof.
Forget Doob Tubes & Altoid Tins
Cannabis users around the globe have been re-purposing classic items like tin Altoid mint containers and sunglass containers for years. While these containers can stash a combination of cannabis and smoking devices, they are typically flimsy and lack scent-filtering construction. Unfortunately, you also run the risk of losing your stash to an accidental lid opening, which seems to happen quite frequently with daily use. Another common choice is a doob tube: an obnoxiously bright plastic tube designed to carry joints. They are cheap airtight containers, but you'll still need to remember your lighter. Be aware that depending on the size of the tube, you may not be able to carry or king-size joints.
Airtight Containers are Bulky
Airtight canisters are very prevalent in the cannabis industry. They are typically designed as Airtight canisters are commonplace in the cannabis industry. They are usually intended as stashing solutions for the cannabis products themselves–so you'll need another dedicated space for your actual smoking accessories (i.e., pipe, bong, papers, etc.) They're usually constructed from plastic or glass–a DIY solution is a pill container or mason jar. Airtight canisters are manufactured in various shapes, sizes, opacities, and materials; feel free to purchase different sizes for different amounts of cannabis.
Silicone containers have become synonymous with concentrate storage due to their non-stick properties, but they're not just for concentrates. These scent-proof containers are made in various shapes, sizes, and colors.
Silicone containers are beneficial when dealing with concentrates with waxy, buttery, or oily consistencies. Note: The quality of silicone used is very important! To mitigate the risk of contaminating your concentrate, utilize medical-grade silicone instead of food-grade.
Vaporizers Break Easily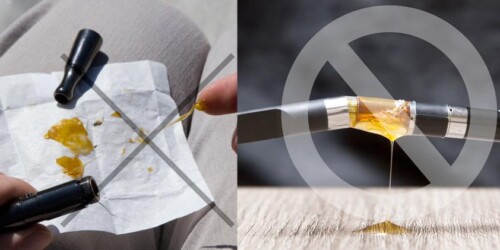 Dispensaries sell a variety of vaporizers and dab pens that include pre-filled
cannabis concentrate cartridges as well as the load-your-own dab style. The sealed, pre-filled cartridges eliminate the need to carry additional concentrates, but they can break easily in your pocket.
Always store a vape pen cartridge unscrewed and upside down to prevent leaks.
A load-your-own weed or dab pen requires scent-filtering containers and dabbing tools.
Five Reasons to Invest in a Professional Stash System
Investing in a stash bag is, for some smokers, a luxury: it's simply a means to organize smoking essentials and accessories effectively. For others, investing in a stash box is an absolute necessity, as keeping a low profile is non-negotiable. While we believe strongly that cannabis consumption should be decriminalized, legalized, and de-stigmatized, until that day, using a low-profile stash box is the best way to enhance discretion.
When we couldn't find anything that met our requirements, we sat down and made a list of everything that a perfect stash box should be:
1. Scent-proof
What's the point of smell-proof bags if the scent leaks out into the world? There's a time and a place for getting a whiff of your favorite flower—and at the office is not one of them. It should be made with premium materials and an outdoor-grade zipper to ensure a scent-free seal.
2. Discreet
Rasta colors and marijuana leaf prints? No thanks. Advertising cannabis consumption may be excellent for teenagers. Still, a low-profile smoking kit is essential for those who wear button-ups instead of Bob Marley t-shirts to work. And this pretty much knocked DIY kits out of the running for us: Altoid tins, hemp sacks, dopp kits—it was all way too obvious.
3. Protective
Dropping your stash box is, as we all know, an occupational hazard. Just like we'd never use our iPhone without a rugged case, we are averse to relying on poorly-padded, subpar stash boxes that couldn't protect a $250 vape pen or custom glass chillum from unexpected bumps in the road. We invest in the proper phone case, and that iPhone makes it through the gauntlet of life without a cracked screen. The same goes for prized smoking essentials. It always baffles us when people are willing to spend a ton of money on an expensive piece of glass and then treat it as they would a metal one-hitter.
4. High-quality
While there were a few stash boxes on the market, one glaring aspect that all of them were missing: quality. Maybe the lower-quality cases didn't matter to the folks interested in buying the Bob Marley, weed-leaf print stash boxes—but to us, functionality comes first. After all, we're avid outdoor enthusiasts, and the Colorado lifestyle has proved time and time again the importance of functionality over aesthetics—just because a jacket looks good doesn't mean it will perform well in a whiteout blizzard.
5. Convenient
Some days we roll joints, some days we smoke blunts, some days we hit the chillum, some days we vape. As cannabis connoisseurs, we have different preferences based on what the day holds. As such, we want a stash box compatible with all sorts of smoking accessories. Each accessory should be designed to fit in a specific compartment or pocket while still leaving room for blunts, joints, a pipe, or a vape pen.
Best Smell-Proof Stash Case with a Lock
1) Famous X Lockable Stash Case | Matte Grey
This Famous Brandz stash case is a perfect budget option for discretion and portability. The padded design is roughly 3 inches wide, 3 inches deep, and 7 inches long, so it'll securely hold plenty of bud and a handful of accessories, too.
Despite its lower price point, this case still comes with a built-in zipper lock. You can change the combination whenever you need it to help keep your stash safe and secure! With its small Famous Brandz star logo, the matte grey bag is incredibly sleek and discreet, so you don't have to worry about the design giving away what's inside.
Features
80mm x 180mm x 80mm
Scent filtering fabric layers
Numerical lock
Padded, soft-style body
Famous Brandz logo on the case
Pros:
Affordable
Customizable combination lock
Discreet design
Easy carry handle
Suitable as a joint case
Cons:
No extra compartments
Smaller size not suitable for all smokers
2) BlackBox The Vault
This Black Box Goods "The Vault" case boasts "3 times the smell protection" thanks to triple-layered Smell Filtration Technology. The modular storage space is larger and measures 9 x 7 x 4 inches. Enjoy various customizable compartments for keeping your stash and supplies organized and tidy. Plus, like many of the best stash cases, this one's fitted with a combination zipper lock that keeps your stuff secure.
The outer shell is made from ballistic-quality material, so it's incredibly durable, weatherproof, and ready for whatever adventures life throws your way. The brand is so confident in the quality of this scent filtering stash case that they offer a lifetime warranty with every purchase.
Features
9 x 7 x 4 inches
Ballistic nylon outer shell
Carbon filtered Smell Block Technology
Shockproof
Waterproof
Modular interior design
Pros:
Large size
Durable
Customizable combination lock
Customizable compartments
Lifetime warranty
Cons:
Bulkier size may be less discreet
Best Multi-Use Smell-Proof Storage Container
3) Vsyndicate SoleStash
This Illuminati SoleStash jar is more than just a scent filtering stash case. It's (almost) everything you need to enjoy a premium smoking experience on the go. The jar includes a built-in grinder plate, a funnel, and a humidity pack to preserve the freshness of your bud. Load it with your favorite rolling papers or smoking piece and a travel-ready supply of bud, and you're ready to roll almost anywhere. It features a brilliant green "All-Seeing Eye" design that's part of the appeal, and you can grab it in one of three sizes, depending on your stashing needs.
Features
Hard-body stash jar
Built-in grinder and funnel
Scent filtered casing
Small: 3.5 in tall, can fit ¼ oz.
Medium: 4 in tall, can fit ½ oz.
Large: 5 in tall, can fit 1 oz.
Pros:
Multi-functional smoking/rolling kit
No need for extra gear
Unique design
Cons:
Not a case for smoking equipment
Best Smell-Proof Bags That Are Stylish
4) Revelry The Stowaway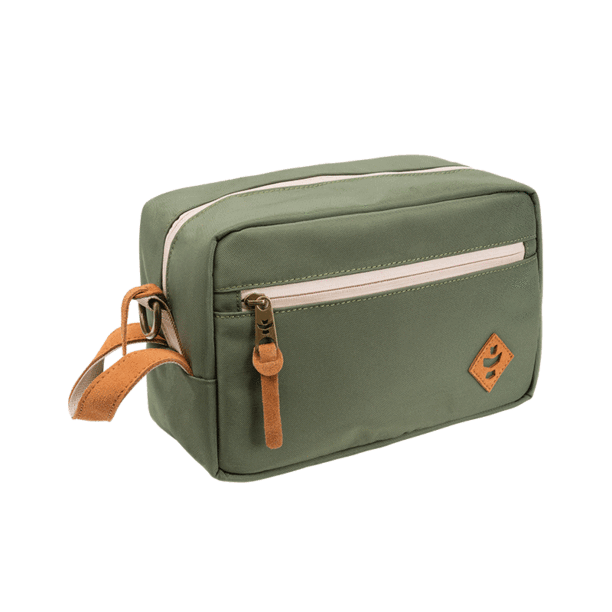 If you're looking for a smell-proof bag that's sleek and trendy, the Revelry Stowaway bag is a worthy contender. It comes in a handful of colors and designs and looks like a low-profile toiletry case. However, unlike your basic travel bag, it comes equipped with an activated carbon filtration system and rubber-backed exterior that fully encases the scent of even the most fragrant weed.
The padded case features an external zippered pocket and divided inner section so you can easily organize all your smoking and rolling gear. To freshen up the bag, toss it in the dryer by itself to release all the stowed-away aromas.
Features
Carbon Filter System
Custom protective lining
Padded
Fully water-resistant
Waterproof zipper
Option to add lock
Inner divider
External zipper pocket
Genuine leather accents
Metal hardware
Dimensions: 11″ x 6" x 5″
Volume: 5 L
Pros:
12 different designs are available
Large size
Multiple compartments
Multi-layer Scent-filtering technology
Cons:
Water-resistant, but not waterproof or weather-proof
5) StashLogix Highland 3.0
The StashLogix Highland 3.0 zippered stash case is on the smaller side but makes a perfect lock-guarded smell-filtering case for when you're on the go. The case features an attachment loop that will fit a wrist strap or carabiner or has a belt sleeve that allows you to quickly turn your stash case into a fanny pack.
The smell-proof bag is lined with an activated carbon filtration system that absorbs scents and an up-cycled nylon exterior that helps protect against the elements. It also includes a small metal poker that fits in a small storage pocket.
Features
Made in the USA
Activated carbon liner
Integrated combination zipper lock
YKK AquaGuard zipper
Multiple zippered pockets
Belt sleeve for wait wearing
Attachment loop – for wristlet or carabiner
7″ L x 5″ W x 1.5″ D
Pros:
Discreet and compact
Three color options
Water-resistant
Multiple carry modes
Cons:
Probably too small for many accessories
6) Ryot Krypto Kit
The Krypto-Kit has been around for two decades, so it's safe to say it was one of the "original" smell filtering stash cases. RYOT's SmellSafe Carbon Series includes carbon permeated padding that neutralizes all odors and can be "re-activated" by simply tossing it in the dryer after it's absorbed too much smell.
The exterior includes a weather-proof fabric coating and moisture seal zipper that protects your stash from the elements while you're out and about. This discreet stash case is on the smaller side but works well with many of RYOT's smaller smoking accessories or your classic one-hitter pipes.
Features:
4.125 L x 2.625 W x 1 H inches
Patented SmellSafe Technology
Option to add zipper lock
Odor Absorption Antimicrobial Microfibers
Compartments for storing cards, cash, papers, and more
Removable RYOT Freshness Pod
Stretch Gusseted Pocket for accessories or lighter
Includes metal poker
Pros:
Compact size
Multiple compartments
Perfect for a joint, papers, or one-hitters
Discreet, durable outer shell
Affordable
Cons:
It won't work with larger accessories
7) Edie Parker Flower Stash Box in Fruit Punch
Are you looking for a cannabis storage case to stylishly and safely stash your essentials? Look no further than the Edie Parker Storage Case in Fruit Punch. Carefully constructed using shatter-resistant acrylic, this is ideal for keeping everything from weed accessories to jewelry and even cosmetics organized and tidy.
Whether you are looking for an elegant gift for a close friend or family member, or simply want to update the look of your own weed décor, Edie Parker's iconic design range offers an exquisite selection of options for everyone. The playful translucent acrylic will add a pop of color and style to any bedroom or coffee table. With an embedded magnetic top closure, you'll be assured to know that all of your delicate flower will remain safe and secure.
Features
Measures 2″H x 3.5″W x 6″L
100% Acrylic
Imported
Embedded magnetic top closure
Embossed logo at base
Best High Tech Smell-Proof Case
8) Trova GO
If you want to level up your stashing game, this biometric stash safe is one of the most advanced no-If you want to level up your stashing game; this biometric stash safe is likely the most advanced scent proof stash container on the market today. The Trova Go wirelessly connects through Bluetooth and can be opened through biometric scanning on your devices.
The Trova Go can also be tracked using your phone's GPS, so you'll never misplace your valuables. The aluminum alloy case is incredibly durable but is designed to look like a basic hard drive or battery so you can discreetly tote your stash without turning any heads.
Features
Dimensions: 6.1" X 3″ X 1.2"
Internal strap will hold credit cards, cash, vape pen, and more
Sealed to conceal the odor
Optional Crafted leather sleeve
Pros:
Incredibly secure
GPS tracking so it won't get lost
Multiple pockets for organization
It easily fits in a pocket or bag
Cons:
Must be used with a biometric-capable device
Best Wooden Stash Box
9) RYOT LOCK-R Box
The RYOT LOCK-R Box is an all-in-one storage kit for avid smokers who need plenty of stash room. It's not the most portable option on the list, but it's a suitable option for anyone who likes to stash a variety of strains and smoking tools.
The 11″ x 10" Solid Top wooden box includes a sturdy lock and key, removable walnut rolling tray, tamper tool, and three air-tight jars. It also has several removable compartments that let you organize all your goods and quickly sort through the box without destroying your stash.
Features
11" Length x 10" Width x 5.625" Depth
Durable Wood Construction with High-Quality Craftsmanship
Includes a RYOT Prep Card
Classic Engraved Branding
Optional Humidity Pod
Pros:
Elegant wooden construction
Holds a large stash and many tools
Organized layout
Includes various accessories
Great for rolling joints and blunts
Cons:
Large size is not easily portable
Best Smell-Proof Case for Small Quantities of Weed
10) Vessel Basin
This compact stash jar is excellent for tossing some aside for a hike or day trip. The sturdy, anodized aluminum jar is both waterproof and scent-free but is smaller than a hockey puck and incredibly lightweight. There are no tricks or gimmicks here, just a simple, durable stash jar that will ride in your pocket without sustaining any damage or leaking any loud scents.
Features
2-piece, precision-engineered
Anodized aircraft aluminum
Waterproof and scent filtering design
Exterior dimensions: 2.17″ D x 0.9″ H
Weight: 40g / 1.4oz
One (1) year limited warranty
Pros:
Incredibly portable
Solid construction keeps weed safe and dry
Perfect for carrying small quantities
Cons:
Not suitable for smoking tools
MSRP: $20.00
Best Smell-Proof Case for Smoking Accessories
11) Vessel Eclipse Kit
Vessel describes this weed accessory as a "just-add-flower" kit, and we think that's a perfect explanation. The kit includes an upgraded one-hitter, Basin stash jar (listed above), and a Carbon soft-flame lighter. Everything packs neatly into a zippered Drift case, which provides integrated bands to hold everything in place, a water-resistant construction, and scent filtering casing and zipper design. The entire case measures under 8 x 5 inches, so you can easily stash your go-kit in your bag or car.
Features
Complete set includes Air one-hitter, Basin jar, Carbon lighter, and Drift case
Includes Air cleaning brush
Exterior dimensions: 7.75" L x 4.6" W x 1.4" D
Weight: 9.6 oz / 272g
One (1) year limited warranty
Pros:
All in one kit
Includes lighter, stash jar, and one-hitter
Could carry a joint, blunts, or other small accessories
Portable and discreet
Cons:
Not suitable for larger smoking devices
Frequently Asked Questions
How do you smell proof a joint?
You'll hear people talk about stashing their joints with lemon slices and air-freshening pods-but we don't recommend it! You can't "smell proof" a joint, and adding any fragranced products to or near your joint will likely add some unwanted flavor to your smoking sesh. Instead, store your joint in a scent-proof case, or choose a scent-proof container for your weed and roll right before you smoke.
How do you keep a spliff fresh?
To keep a spliff fresh, keep it in an airtight, sturdy container so it won't get squished or become stale.
What is a smell-proof joint case?
A scent-proof case for joints is a small case that features scent-filtering technology. This may be a silicone or other airtight, non-permeable casing or carbon-infused fabric.
What is the best smell-proof bag?
Choosing the best smell-proof bag depends on how much weed you plan to carry, what tools and smoking devices you need to fit in the case, and how portable you need the case to be. Our list of the best stash cases above includes high-quality stash bags of all styles, sizes, and price ranges.