By Tommy Joyce | July 30, 2019 | Lifestyle
Whether you're headed across town or across the country, you've probably encountered the problem of how to carry your smoking supplies after you take them out of the marijuana packaging. Ultimately, the answer to this question will depend on the contents of your stash and where you're going. Like many cannabis consumers, we would venture to guess that your stash is constantly changing. That said, the most versatile options are usually the most helpful.
Forget Doob Tubes & Altoid Tins
Cannabis users around the globe have been re-purposing classic items like tin Altoid mint containers and sunglasses cases for years. While these containers are capable of stashing a combination of cannabis and smoking devices, they are typically flimsy and lack smell-proof construction. Unfortunately, you also run the risk of losing your stash to an accidental lid opening, which seems to happen quite frequently with daily use. Another common choice is a doob tube: an obnoxiously bright plastic tube designed to carry joints. They are cheap airtight containers, but you'll still need to remember your lighter. Be aware that depending on the size of the tube, you may not be able carry blunts or king size papers.
How can you carry 3 joints plus a mobile rolling kit in your pocket?
Airtight Containers are Bulky
Airtight canisters are very prevalent in the cannabis industry. They are typically designed as storage solutions for the cannabis products themselves – so you'll need another dedicated space for your actual smoking accessories (i.e. pipe, bong, papers, etc.). Most commonly, they constructed from plastic or glass – a DIY solution is a pill container or mason jar. Airtight canisters are manufactured in a variety of shapes, sizes, opacities, and materials; feel free to purchase different sizes for different amounts of cannabis.
Silicone containers have become synonymous with concentrate storage due to their non-stick properties, but they're not just for concentrates. These smell proof containers are made in a variety of shapes, sizes and colors.
Silicone containers are especially helpful when dealing with concentrates with waxy, buttery, or oily consistencies. Note: the quality of silicone used is very important! To mitigate rick of contaminating your concentrate, utilize medical grade silicone as opposed to food grade.
Vaporizers Break Easily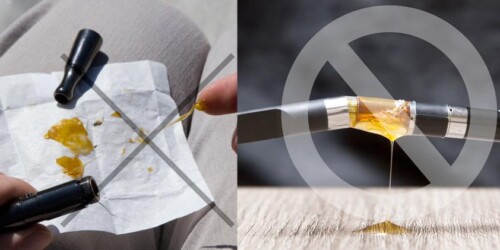 Dispensaries sell a variety of vaporizers and dab pens that include pre-filled cannabis concentrate cartridges as well as the load-your-own dab style. The sealed, pre-filled cartridges eliminate the need to carry additional concentrates, but they can break easily in your pocket. Looking for the best vape pen? Check this one out.
Always store a vape pen cartridge unscrewed and upside down to prevent leaks.
A load-you-own weed or dab pen requires smell proof containers and dabbing tools.
Smell Proof Container for your Stash
Hailed by MPORA as "The type of thing James Bond might carry around", the Safety Case is a stylish stash wallet for the active lifestyle. The smell proof Safety Case eliminates the need for doob tubes, while ensuring you won't forget your lighter. Concentrate users benefit from the ability to stack multiple smell proof containers along with the necessary consumption devices. Those seeking discretion will appreciate its lack of obvious marijuana packaging and smell-proof design when in public places and social events. With room for king size joints, blunts, vaporizers, pipes, papers, grinder and more, the Safety Case is the ultimate stash case for active smokers around the world.